About the course
Become an Everything DiSC® Certified Practitioner!
As the world of work becomes more reliant on technology, your organization has been challenged to recreate the authentic human connections that drive results. Now, with the proven power of Everything DiSC®, you can help shape a more engaged and collaborative culture by teaching people about themselves and others.
As an Everything DiSC® Certified Practitioner, you'll build the credibility and expertise needed to deliver impactful DiSC experiences that help people work better together. During this two-week, virtual learning experience, you will:
Deepen your understanding of the DiSC® model, theory, research, and key principles.
Explore how to build custom solutions and deliver impactful DiSC experiences using the new Everything DiSC® on Catalyst™ learning experience.
Familiarize themselves with the full Everything DiSC application suite.
Practice facilitation and coaching techniques while receiving feedback in a safe environment.
Connect with fellow Practitioners
COURSE OVERVIEW
Sample Course Structure: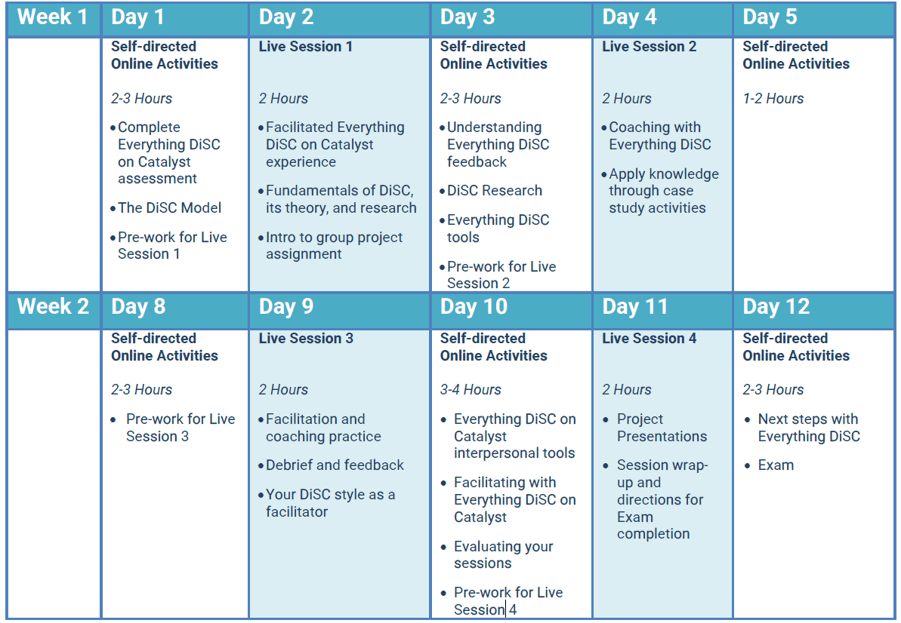 Here's what to expect:
After completing Everything DiSC Certification, learners will be able to demonstrate:
A deep understanding of Everything DiSC and the personalized insights provided by the Catalyst platform
and supporting reports.
Expertise in the Everything DiSC® model, theory, and research.
Confidence, competence, and credibility in delivering Everything DiSC solutions.
Ability to customize Everything DiSC programs to meet the needs of an individual, team, or
organization
CREDENTIAL EARNED
Upon successful completion of Certification course work and exam, participants will earn the credential of
Everything DiSC Certified Practitioner—signaling proven competence in shaping high-performing, collaborative cultures, knowledgeable in the language of DiSC.
SHRM RECERTIFICATION PROVIDER
SHRM credential holders can earn 20 professional development credits (PDCs) from the Society for Human
Resource Management after completion of Everything DiSC Certification
If you're looking to purchase the final certification course of the year scheduled for October 2022, you can do so here. Simply fill out the form with your information. We'll be in touch with next steps shortly after.